What follows is the account of my adventure in August:
Welcome to New York
I've been to two dozen countries now, and the first twenty three of those were in customs union with the UK. what that means is that clearing customs at JFK was a completely new experience for me.
If I'm being honest, it was not one that I'm keen to repeat: the customs officer was very friendly, commiserated with me over my broken finger, expressed the appropriate and satisfying level of surprise at the ratio of luggage to time away, basically got everything right. It's just that it took more than an hour in a queue to even get to her. Our plane landed ahead of schedule at about 6:45, and I left the airport at 8:10.
Not the most auspicious start.
Breakfast at Tiffany's
I had this weird notion for my first day here, that if I woke up super early (which I did, but not by as much of a margin as I'd feared), I could sort-of reënact the opening scene of the 1961 classic. There were two details that ensured that this plan did not work out.
The first was that I had overlooked the fact that when Holly Golightly steps out of her cab on Fifth Avenue, she already has her breakfast with her. This detail is important, because in midtown Manhattan (and especially Fifth and Fifty-Seventh) the rent is far too high for a place selling coffee and pastries to survive, driving me further and further from Tiffany's in search of some actual, you know, Breakfast, and resulting eventually in a rather less romantic Breakfast at Citigroup Centre.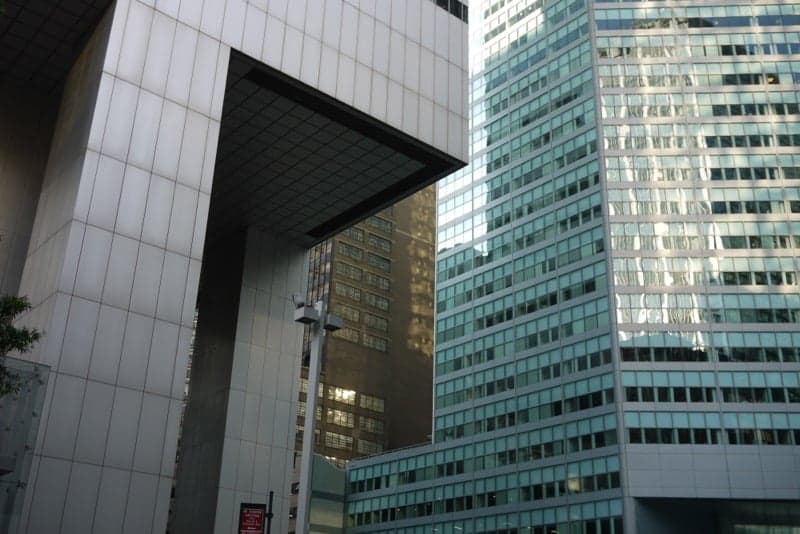 The second detail would have buggered the whole thing up anyway: unbeknownst to me, 18 years after the movie came out, some complete pillock bought the building next door, tore it down and replaced it with an uglier building he then self-indulgently named after himself. And not for the last time.
Empire State
The best thing about going to the 86th floor of the Empire State Building when it opens at eight o'clock on a Sunday morning is not the satisfaction of your body clock being five hours ahead and making you feel like you didn't get up at half six to see it. It's not that it's still cool in New York at that time in the morning, or that with the sun lower in the sky you're less likely to burn up there. It's not even the view, which is inarguably fantastic, taking in Central Park, the Chrysler Building, lower Manhattan and even the distant Statue of Liberty as well as the more unusual view upwards to the tippy-top of the building itself: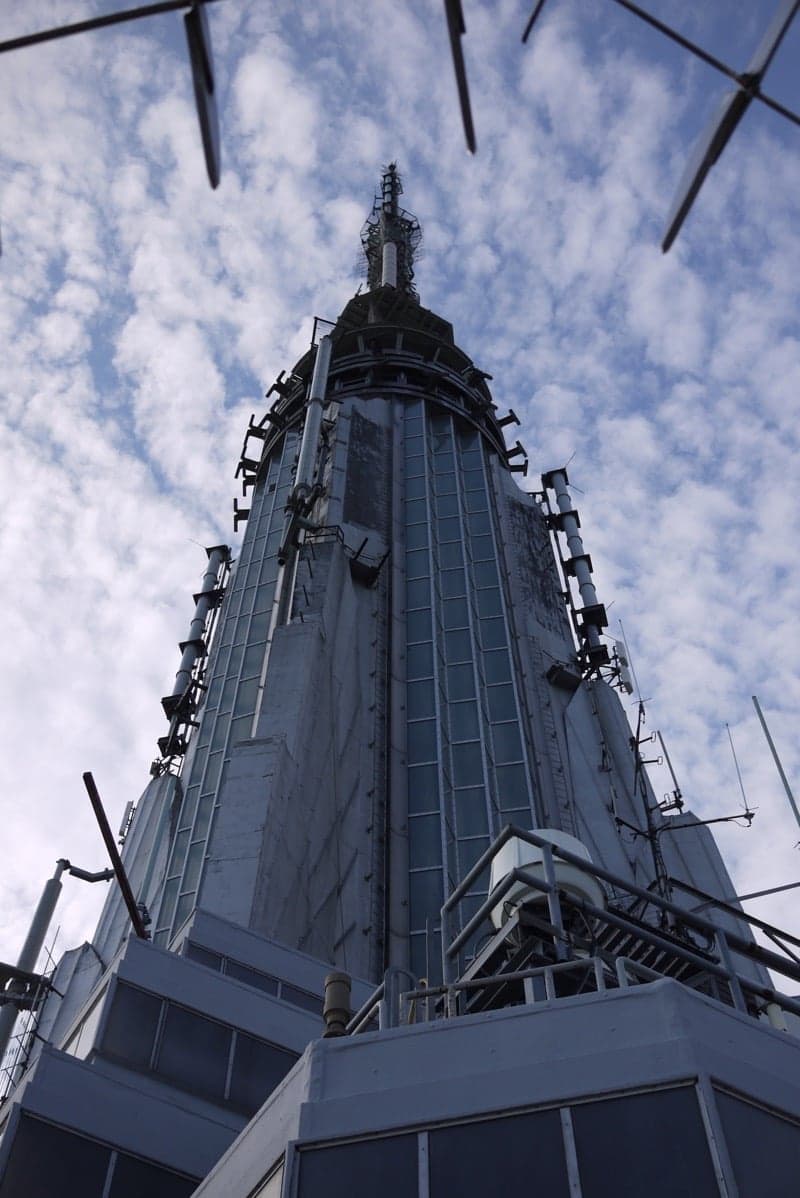 No, the best thing about the trip was seeing the array of barriers, twisting routes and ropes that are used at busier times of day like a sheep fank to keep the visitors penned and hemmed in for the long waits that I didn't have to wait.
High Line
The high line park is a beautiful way to get from 34th down to the meatpacking district, and I was particularly enamoured of the water feature I came across about half way along. It was beautifully made, just water running from the edge of the path across about a third of its width and then draining back underneath.
It was the most minimal example I've ever seen: it sounded right, small children could get themselves wet in it, it cooled the air a little. Everything you need, and no more.
A World of Trade
When I was in Rome for the first time, I was determined that I wasn't going to visit the Vatican: I had an idea that it would be somehow against my beliefs of atheism. I don't know, it felt like it made sense at the time. Anyway, I changed my mind while I was in the Colosseum, marched across the city and was hugely impressed by St Peter's Basilica, if not by the security guards who ignored me setting off the metal detectors.
A similar thing happened today, when I suddenly decided that even if I'm put off when Americans are sometimes a little too demonstrative of their emotions, I would nonetheless visit the 9/11 memorial at the site of the old World Trade Center buildings.
I was moved.
The actual monument is well thought-out, and understated despite its massive size: the names of the dead are inscribed on plaques surrounding fountains with the same footprint as the buildings. I say fountains, but they're really huge holes in the ground, draining water constantly from the edges under the plaques. I wasn't moved by the memorial itself, though, but by a tradition followed by its keepers: a white rose is placed by the name of each victim on their birthday. It may be less affecting in print than in person, but it threw me just a little off balance.
While I was there, I also got to see the sixth tallest building in the world up close, and I even tried to take a picture of it. I don't think I captured the sense of perspective, if only because even being there in person doesn't really capture the sense of perspective.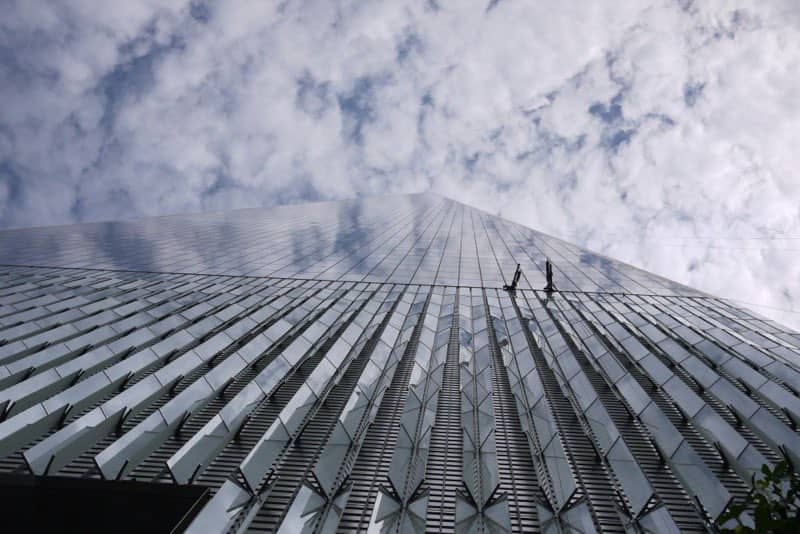 Staten Island
So I went to Staten Island, on the free ferry, which means by Tuesday I'll have been to or through all five boroughs. Mostly I went just to see the Statue of Liberty a bit closer, but I did have lunch while I was there. I used my phone to find a Thai place close to the ferry terminal: it was nothing to write home about.
Oops.
The Bridge
You would not believe the number of people that were on the Brooklyn Bridge with me today. Maybe I was feeling misanthropic because of my sore feet (38,561 steps today!), or maybe it's just because the walkway is so narrow, but it felt like the entire population of Brooklyn was trying to get to Manhattan. On foot.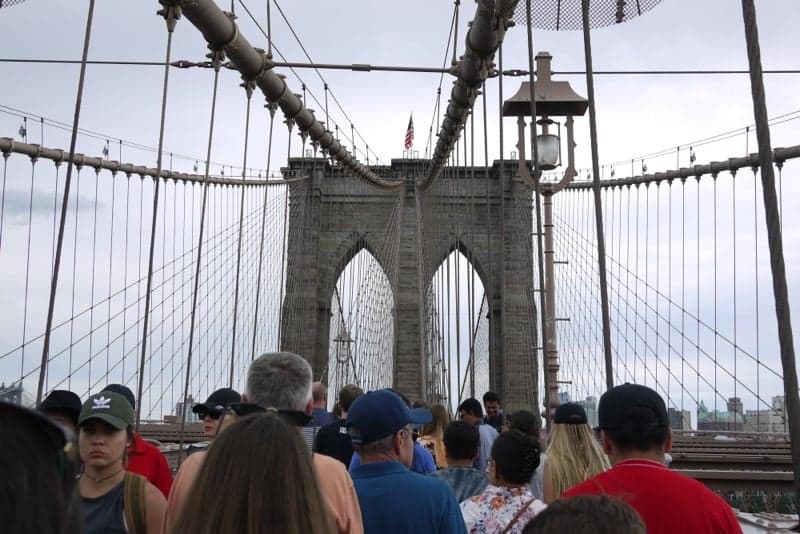 Of course, the only reason that my brain thought that is because I can't even imagine what the population of Manhattan looks like. Or Brooklyn, come to that.
Cultural Sandwich
So, a bagel with cream cheese and an orange juice on the Upper East Side. For someone who avoids caffeine, it doesn't get much more stereotypically New York than that when it comes to breakfast.
Now, let's see if these blistered feet still work.
Cultural Helix
So the Guggenheim.
Wow.
Just…
Wow.
A collection of Cezanne, Degas, Van Gogh, Monet, Picasso, Mondrian and Klee is always going to throw some emotions at you, but the thing that struck me was the continuity of it all. I never felt lost, never had to make a decision about the best branch to take, never felt rushed or slowed.
This building is incredible; so incredible that I'm still here, at the bottom of the Helix, writing this instead of moving on. Now partly that's because of the rain outside, but mostly it's because of the vision of Frank Lloyd Wright
Cultural Relevance
I'm not a huge fan of Kandinsky, I don't think I really get what he's doing most of the time. That said, I just saw this, and it might be because of why I'm here in North America, but it really clicked for me.
Cultural Coincidence
Okay, bear with me for a second on this one. My plan for New York had two different days in it: one of wandering round taking in various sights I wanted to see, and one of absorbing myself in art and culture at a range of museums. Originally I had planned to do the museums when I arrived, then soak up some city the day after.
Enter the weather forecast: I checked Dark Sky, and it told me (quite correctly) that there would be rain today but not yesterday. Simple enough; I'll switch my plan around, have my outdoor stuff in the sunshine and my indoor stuff in the rain. And so it came to pass that I was in the Metropolitan Museum of Art today ("if they're going to shorten it to something, they should shorten it to the muese").
In a typically hipster fashion, my audio guide to the museum was self-provided, since the artist in residence for the last year has been Nate DiMeo, host of a podcast that I love dearly (The Memory Palace). As artist in residence, he was commissioned to produce eight episodes pertaining to and inspired by the works in the museum.
I had a great time wandering around the American Wing, finding the relevant pieces of art and listening to Nate talk me through their history, or paint pictures of how they'd come to be in the collection. And then, while I was still only part way through my audio adventure, something wonderful happened. While I was stood on a balcony above the courtyard looking at bottles, the new, penultimate episode of the Met residency series downloaded itself on to my phone.
It was a doozy.
A scavenger hunt through visible storage, it filled me with joy and wonder and really brightened a rainy day for me.
Cultural Saturation
Okay, so maybe it was silly to go to the Guggenheim, the Met and MoMA on the same day, but I honestly expected more from the latter.
There was a Frank Lloyd Wright exhibition that I thought might be interesting, but I'm not enough of an architect to get much out of models and technical drawings of buildings. This was especially evident given that there's a Wright room at the Met that I wanted to just live in, and my aforementioned experience at the Guggenheim.
And then there was Starry Night. I'm glad I've seen it in real life, even if it's behind glass. Disappointingly, it reminded me of the Mona Lisa, not in itself but in its surroundings, which is to say tightly-packed crowds.
One difference, if I remember correctly, is that people weren't getting to the Mona Lisa, lining up their shot (or god forbid, selfie), and then walking away as if that's how they appreciate art. "Recorded, therefore done. Post to instagram."
Of course, that difference could just be one of time: I haven't seen the smiling lady for more than a decade.
Cultural Vacuum
Times Square.
People walk a line, generally, between giving in to the joys of consumerism and realising that not everything worth having can be bought. Times Square takes that idea and squashes it, surrendering an entire city block of space to selling people things that they neither want nor need. Eurgh.
Cultural Redemption
"What's the difference in price between School of Rock and Drunk Shakespeare?"
Shock on her face before she answers.
"Uh, well one is a hundred dollars and the other is thirty-six? Thirty-five, sorry."
And she's the one that's surprised. I thought about it very briefly, then went off-Broadway to the show I actually had an interest in, for $35. I still kinda can't believe that $100 is the half-off price for a broadway musical, but I had an absolute ball at Drunk Shakespeare, met a nice guy from South Carolina, and still got to do my little walk home from Broadway to Grand Central, taking in the lit-up beauty of the Empire State and the Chrysler on my way.
And Grand Central leaves even Milano Centrale in the dust, by the way.
Midtown
Sitting in Madison Square Park, flatiron building behind, the top of the Empire State through the trees like a lighthouse in the fog, stomach contentedly working on a New York slice, and reading Northern Lights in the dappled sunlight.
That'll do.
Seats in Coach
Note to self:
When a slightly out-of-it, hippieish and above all stinky looking dude asks if there's someone in that chair, bear in mind that if you say no he'll be sleeping within two feet of you that night.
Oh well.
Amtrak Hours Update
Twenty-two and a half done, seventy-eight to go.
Tired
Overnight train rides are an interesting one: it's not the best environment for sleeping, with the noise and shoogling and other passengers. You really need to be prepared if you want to get the best out of the situation, and I confess that I was far from prepared.
In anticipation of a journey more than twice as long, I've just been out to Walgreens and Target to prepare for the next one, and in deference to the journey I've just taken, I'm now going to spend some quality time with a double mattress and duvet.
Contemporary
My reasons for visiting the Museum of Contemporary Art were less than highbrow. Their museum shop sells a fold-up Dymaxion globe that is expensive to have shipped, so I thought that I'd pop in and pick one up while I'm here.
Unfortunately, they were out of stock today and don't think they'll have any more before I leave on Saturday.
Fortunately, the MCA is actually a really interesting place, small but with interesting exhibitions in a number of different styles and media. I particularly enjoyed the Murakami retrospective.
L
This one seems silly, but I really like the L trains here. they use a smartcard system, which puts them on a par with most and ahead of NYC, and the fares seem reasonably to me. But the trains themselves I'm really enjoying.
The cars are nicely spaced and clean, and the design is warm and comfortable and seems reasonably modern. in terms of where you're forced to spend time, I'd put these trains at the top of my experience. That means I think they're nicer than London's Underground, New York's Subway, Glasgow's Clockwork Orange and the Metros of Paris, Barcelona, Hamburg, Munich, Rome, Naples, Vienna, Milan and Stockholm.
As well as being more comfortable, the lines have straightforward names. I rode on the Orange, Blue, Red and Green lines, and I never had difficulty interpreting a map.
Because I'm not colourblind.
Public
The public art in the Loop (downtown Chicago) is incredible. Every second block has some monumental sculpture or painting, and you can (and I have) spend literally hours just wandering around soaking it all up.
It must just fade into the background if you live or work here, like castles and history do back home. Seems a shame, somehow.
Towers
Pizza
I wrote something a while back about the distinction between experiences that stand alone, and those that rely on the particular journey to get there. Pizza may be one of the latter.
I just had my first experience of real Chicago deep dish pizza, and it was hardcore. It was literally a pizza crust dish, more than a centimetre deep, filled to the brim with cheese and sauce and pepperoni. I mean it was delicious, but full-on.
As a response to Neapolitan pizza, it was weird, but if you translate the Italian expansive dining experience through the hurried, eating while walking, single slice approach favoured in New York, the whole thing makes more sense.
A pizza as a meal doesn't have to be huge and deep and fantastically American, but if it's the only thing on the table, that approach becomes valid.
Unexpected Festival
You know that feeling when you're buying a cinema ticket online and the running time of the film says "210 minutes"?
No, me neither.
Turns out that the Midwest premiere of Gold Star was also the final night of the blue whiskey independent film festival, which had been showcasing films every night for a week. It wasn't the first time I've experienced an audience applauding at the end of a picture, but it's the first time I've not thought it was stupid, because the director was in the audience with us.
Four short films and a feature seems like pretty good value, and a nice way to spend three and a half hours.
Wright
The mother art is architecture. Without an architecture of our own we have no soul of our own civilization.
Dude was full of himself. Still, he designed beautiful, often unaffordable homes, and in so doing made Oak Park one of the most handsome suburbs I've ever seen. Wide, low-slung, exquisitely wrought houses are dotted all over the region around his first home and the studio that he built there.
Definitely worth a look next time you're in Chicago.
Flag
The Chicago city flag is incredible. I could wax lyrical, but I won't do as good a job as Roman Mars did nearly three years ago.
Listen, google the flag, be impressed.
I liked it enough to buy a bandanna inspired by it. I'll show it to you sometime.
Sears
The Sears Willis Tower has something that they call the Skydeck Ledge.
It's a glass box sticking out of the side of the 103rd floor, and you can line up and go stand in it, on a glass floor 412 metres above the street below. After spending more than an hour getting to the top of the building with queues and exhibits and such, I took my place at the end of the line for the Ledge.
I bottled it.
…but not for the reason you're probably thinking of. My problem wasn't the height (though I won't pretend I was looking forward to it all that much), my problem was with the line. The train that I'm currently on left Union Station at 2, and if I'd missed it, it would have put me at least a day behind schedule.
I didn't want to risk it, especially given that there was another queue for the lifts to the ground floor, so I left the line and now have to live with only having seen breathtaking views of what I'm assured are four states, and being able to look down on fifty storey skyscrapers as if they were Wendy houses in the garden. It's ridiculous to look down on the Chicago skyline.
Like, ridiculous.
An Event
I was thinking about writing about this journey, with its two nights of chair sleeping, the range of people on board (including multiple other eclipsers), the train crawling up and over the Rocky Mountains and the Sierra Nevada and the microcosmic society and factions that form on board, but I wouldn't be able to do it justice, so I won't.
Amtrak Hours Update
Seventy-nine done, twenty-five and a half to go
Little Boxes
These old neighbourhoods are incredible, even excepting the independent shops, cafes and bars that create the communities. Each house is different, even though they're pushed together in rows.
Okay, maybe not every house is different to its neighbours, but the longest run that you see is maybe three or four houses of the same design, and each of those will be a different colour, and have little differences: an awning here, a porch there, something that marks out the hundred or more years of history that the building has seen in this street in this neighbourhood in this beautiful and welcoming city.
Redwood
After two full days on a train, there's nothing that's more needed than a walk in some nature. The motto "go big or go home" springs to mind at this point, because the nature through which I ended up hiking was the coastal redwood grove at Muir Woods, and the first thing you experience there is bigness (bigality? bigatude? No, bigness is fine).
Not just trees-but-bigger, though; real height, a sense of verticality like the one you get at Köln cathedral. Not too shocking to wander into a place called Cathedral Grove, then.
Univers(al)ity
There are things that I've seen and places that I've been that I would never imagine coëxisting happily.
If you suggested to me that clean, modern architecture of building and space, beautifully sculpted parkland, American architecture of the early twentieth century and classic academic buildings were all to be found in one campus, I don't think I'd have believed you.
I would definitely want to study there, though.
Red & White
The last time I went on a boat tour of a city, it was Copenhagen, it was summertime, and without shade I got sunburnt. This time, it was San Francisco, it was summertime, and without shade I got sunburnt.
Totally worth it, though. really interesting commentary throughout, and most importantly an up-close view of my favourite bridge in the world. I literally couldn't take a photo that did it justice, but I did manage to get this one of Alcatraz: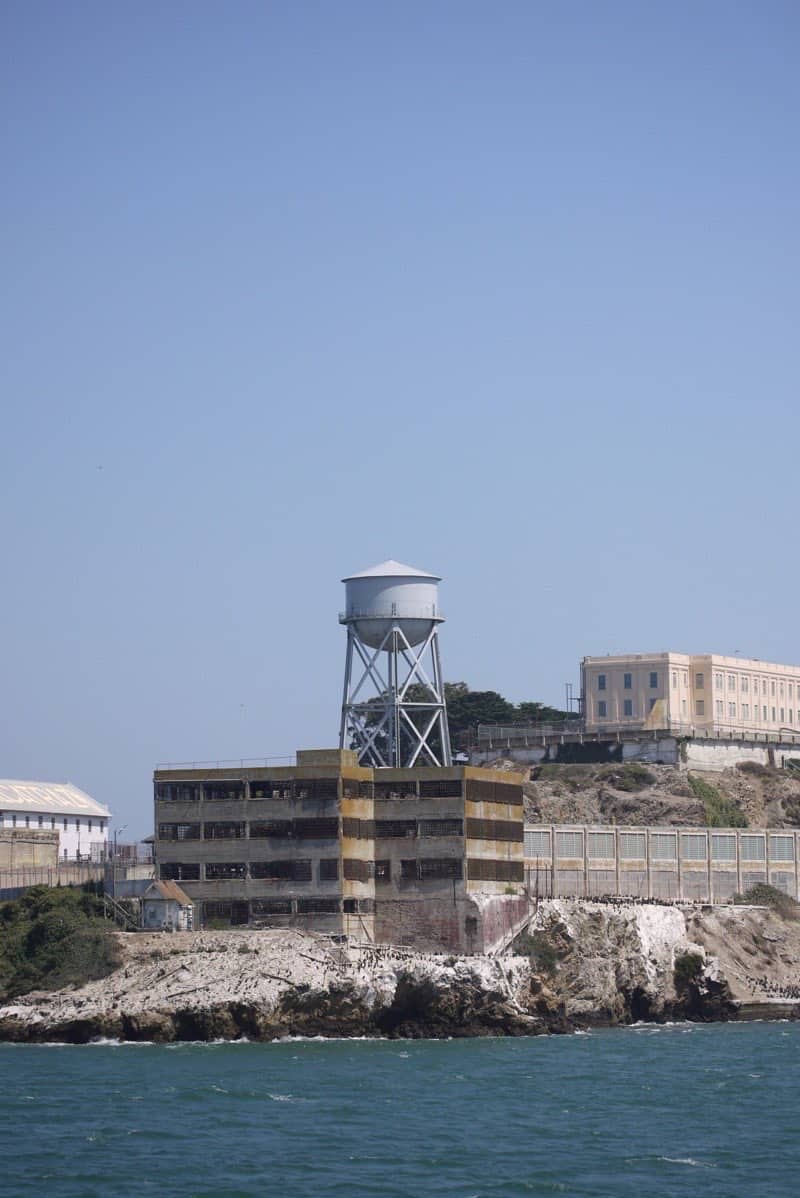 Beach Blanket
Sustained musical incorrigibility.
I'm a fan.
Storeys
I went in to the California Academy of Sciences with an eye as to how things were laid out as much as what was being laid; my recent experiences with public engagement and trying to help design experiences for people has added an extra dimension to this kind of thing.
To cut a long story short, I don't think I've ever seen it done better than it is here: everything is presented in an interesting and attention-capturing way, and the science and knowledge on display is exemplary. The clearest example I have for you is the rainforest exhibit.
This is a massive spherical room with a chink of rainforest inside, with live plants and animals spread over four storeys of space, and with multiple viewpoints for everything. A spiral walkway not a million miles from the one in the Guggenheim leads you through everything, and then from the top you take a lift down to the basement, and walk out underneath the fish-laden pool of water at the base of the trees.
There's something so compelling about the experience that it made me want to pursue this kind of public engagement with science as a career.
Serenity
In a cup in a house in a garden in a park in a city, is a little slice of peace.
The city is San Francisco, of course.
The park is Golden Gate.
The garden is the Japanese Tea Garden
The house is their tea house.
The cup was my cup, full of genmaicha.
The peace was unalloyed.
You'll Have Had Your Tea?
If you know me well, you probably know that I don't know how to eat all that well, certainly not regularly. I'm bad at making decisions about food, and I tend to give up rather than work it out. I put it down to not really liking food all that much, but when I have guidance I have to confront the untruth of that idea.
So far I've enjoyed British, American, English, Mexican, Scottish, Chinese, Asian Fusion, French, Japanese and Greek food in San Francisco. I couldn't ask for more.
The Luckiest
Being in a new city is strange and sometimes difficult, even when it's just for a holiday, even when it's just for a few days; you don't know anyone, you're never sure where the best places to eat are, or which destinations are going to be too touristy and which are worth it anyway. If you're like me, homesickness will set in in some form early on, and you'll doubt your decision to visit even while you're writing about all the cool stuff you've seen and done.
But if you're lucky, you won't need to be confused and alone, and there will be people you can lean on who won't even mind the leaning, and if you're really very lucky, those people will be some of the warmest and kindest and most generous and welcoming people you could meet.
And because of them you get to see the very best of a place, and not just see it, but learn about it and understand how it was and is and will be, and you'll eat great food and hear great stories and feel part of something even when you're 5062 miles from home. And you won't know how to say thank you, because you don't think that anything you do know how to say will cover the gratitude you feel.
Amtrak Hours Update
Ninety-eight and a half done, seven to go
Pok Pok
So I arrive in Portland (where it's really really hot), march out of the station and down sixth, heading for Pioneer Courthouse Square and my chance to buy a Hop Card (think Oyster for Portland), and as I'm walking, the shopfronts slowly become less back-of-a-train-station dodgy, and are heading in the direction of the hipster-cool I've been expecting from this city, but it doesn't really materialise.
Then, having picked up my card and consulted with my phone as to how to get to the AirBnB — owned by a trilby-wearing awesome looking old black dude — out of downtown and off towards the 'burbs, I ride a crowded bus and get off at the appointed stop (Division and 30th), and suddenly I'm in hipster nirvana, walking past somewhere called "the bollywood theatre", an organic, locally-made frozen yoghurt shop, a neon-signed taco place and a bar selling craft beers and locally roasted coffee in short order (like, consecutive-shopfronts short order).
So, having introduced myself to Roland and dropped off my bag, I head back up to Division and into Pok Pok, a Thai place I read about in Time Out, and I'm served some delicious chicken wings and Vietnamese affogato at the bar by a guy with a grey moustache and tattoos running up his arms until they're covered by his plaid shirt, and I'm slaking my thirst with something called drinking vinegar because the aforementioned hipster barman tells me he can't accept driving licences from outside the country as ID, it's state law; still, the drinking vinegar was good, and now I know to take my passport with me tomorrow if I want to try out some craft brews.
I could get to like this city, although I've already confirmed that I'll never be hipster enough to live here.
Portlandia
And I'm determined to see all of the mad Portland things that I've seen or read about or watched on telly, but I have to start the day right, so I'm off up to cup and bar for some (super millennial) avocado and ricotta toast that's more ricotta than avocado or toast and a drinking chocolate that's so ridiculous when it's served that I take a picture of it as if I'm going to insta it; three short glasses, one with the (rich, thick, velvety) chocolate, one with whipped cream and a piece of dark chocolate stuck in there like a tiny hipster '99, and one of sparkling water, so as to reduce the cloying ridiculousness of the drink itself (all served on a wooden board, of course).
Then it's off to Burnside Bridge market, and a hundred stalls of tchotchkes and trinkets, and an awesome old dude with a beard called Carey who tailors one of his gorgeous handmade leather watch straps to fit my tiny wrist, and a woman who makes these cute/creepy dolls with sewn-on buttons for eyes—which reminds me of Coraline, which makes me think that either you give a kid one of those dolls or you give them Coraline, but not both—except the sewn-on buttons mean that they're for three and over, and newborn is a long way from three and over, so I leave, and head for Voodoo Donuts.
Except I miss Voodoo Donuts, because the centre of Portland is slightly smaller than I expect, and once I realise I'be missed it I notice that I'm still full from my breakfast ricotta, so I plough on and end up at Powell's, a bookshop with the size, organisational structure and general demeanour of a library (which I guess makes sense, but still: it's unsettling), and having bought no books because I'm halfway through one and don't have the space but instead making a list of the books I need to read generally I move out, have a peek at the Armory where there's a private party that stops me going in, decide against the busiest, least friendly brew pub I've ever seen and head over to a different brew pub instead.
Eventually there were Donuts, and a nice woman and her aunt in the queue with whom I could chat about the Elvis impersonator crudely mumbling into his microphone but seeming to have a ball performing for a street full of portlanders (and not a few eclipsers, I think), and some dinner at yet another brew pub, and a visit to the nation'a smallest city park (in the hole where a streetlight was supposed to go), and to the second-largest copper sheet statue in the US (you know where the biggest one is), and then I was about done for the day, and on the way back I noticed that they have a catch-all term on the transit system for people who are drawing their pension and people with a disability and people on Medicare for whatever reason; in Portland they call them Honored Citizens.
Cathedral
There's this park; it was supposed to exist for fifty years before it did, but they didn't make it for some reason. All that effort to build such beautiful concrete arches, stretching into the open sky like stone arches stretching into the roof of a cathedral. Lines not dissimilar from those you'd see at the Sagrada Familia, slow curves of strength and power, but instead of a roof up there there'a a bridge: St John's bridge, a suspension effort that would be unremarkable without its glorious supports. And a park in the shadow of the bridge, trees and benches and a sculpture bringing the indoors out. Really beautiful.
Totality
Manoeuvring a car on the wrong side of the street around a cramped city centre with myriad one-way streets and signs I'm not used to: forgiven.
Sleeping on the back seat of a car while the temperature outside falls from 27 to 14, with the only comfortable pose resting my back against the seats so that I have to turn end over end to get from lying on my right to lying on my left: forgiven.
An eight-and-a-half hour drive that only took two yesterday: forgiven.
The low-fuel light coming on ten miles before leaving the desert so that I felt like I had to turn off the radio and the A/C to conserve petrol, and I…
Hang on, turn off the air conditioning, in a desert?
Yeah, and I don't know where the next petrol…
But the air conditioning? Really?
Yes. And I don't know where the next petrol station is, so I'm crawling along, using five miles of petrol for every mile of real distance, and…
Didn't you boil, though?
Well, I sweated a lot. But more to the point was the gnawing worry of it. And the sweating. But still: forgiven.
That stinky dude on the train: forgiven.
Four nights sleeping on a train seat instead of in a bed: forgiven.
An hour or more in a customs line: forgiven.
The crowds at MoMA: forgiven.
My glorious sunburn: forgiven.
The knowledge that I'm going to have to try and sleep on a six-hour (ish) flight to Iceland on Thursday: forgiven.
I would forgive almost any crappy experience to see what I saw, and feel what I felt, when the sun disappeared behind the moon, and there was a sunset on every horizon, and darkness fell in the day.
Almost anything at all.
Amtrak Hours Update
One hundred and six done, none to go
Flyover
Oh, Canada
If you read that with a da-da-dee-da cadence, like the national anthem, you could be forgiven. I intended it more like oh, honey sweetie baby: a caring but nonetheless pitying tone.
When I set out this morning, my airbnb host was kind enough to offer a recommendation; a sort of virtual reality ride thing that swoops you across Canadian landscapes while spraying mists of water and odours at you to give the impression of actually being there. It's not my cup of tea, really, going halfway round the world to experience a really big screen and some gimballed seating, but I thought it would be terribly awkward to see my host again and have to say I'd skipped it, so I paid my fee and I went along to this tourist trap.
Damn if it wasn't great fun, though.
Stanley
The largest urban park in North America, they say. Kilometres of trails for bikes and pedestrians, they say. Historic lighthouse and First Nations totem poles, they say.
A bit of shade from the unforgiving sun, I say.
It's ok: all of us are right.
Towers, Redux
A-bloody-nother one, although I believe the citizens of Vancouver are making an effort to do what the citizens of Toronto did.
Weights and Measures
I can't tell what's going on any more. I know that American pints are made up of sixteen American ounces, and that American ounces are a little bigger than imperial ounces, and that British pints are twenty imperial ounces, and that that means that American pints are five sixths of a British pint.
And I know that when you're sampling a lot of little glasses of craft beers, you're generally having at least a few, if not a several somewhat stronger brews than I'd go for at home.
And I know that Canada has adopted the metric system, much more wholeheartedly than the U.K. has, and so it's puzzling that I've just had three two ounce pours of wine and four quarter pints of beer.
Even more puzzling is that after what I'm almost certain is one medium glass of wine and one pint of fairly but not drastically strong beer I now feel somewhere just beyond tipsy. Maybe it's weights and measures, or maybe I'm a lightweight.
Queen Elizabeth
This should really be a post about how unexpectedly beautiful Queen Elizabeth Park turned out to be, with its stunning views of the city and the alluring promise of the conservatory, the beautifully sculpted and planted quarry park and the fountains around which people were practicing T'ai Chi, but it's not.
Instead, this is a post about how funny it is, especially after more than a fortnight in the US, to be in a city where streets and parks and buildings are named after the Canadian royal family. because of course they're our royal family too, so I recognise all the names. I feel like at home we have them too close by to want to encourage them by naming everything with a name after them, and so even though we have Princes Street and George Street and Queen Street, these feel like historical anomalies rather than an earnest appreciation of the monarchy.
Bad Night
After four nights of trying to sleep in train seats, and one sleeping on the back seat of a Nissan Altima, that five hours and fifty minutes on a seat I only worked out how to recline half way through was the worst night's sleep of the trip.
Lifetime top ten, in fact.
Good Day
I managed to find a tour company that picked me up at the airport having left a little time for a quick breakfast, took me up to Gulfoss (which was incredible), down to see Strokkur do its thing a couple of times, then saw I was a bit bored and fairly tired/jetlagged so took me down to Fontana hot springs in Laugavartn for a few hours on the way back to Reykjavik.
The tour company is called Budget Car Rental, and it's a great programme, even if you do have to drive yourself.
Steam
A piece of advice:
If you've just come out of a cold lake and you want to warm up, check the temperature gauge outside the steam room before you head in. if it's 55 degrees and 100% humidity, you probably won't be able to breathe.
The Sarah
I'm about to go to bed, and I'm definitely out of sorts from the journey and the time zone movement, but I think I just promised to name a potential new medical diagnostic device "Sarah". Not "Sarah's Meter" or "The Sarah Device", just "Sarah".
… And Back Again
Finally back in Edinburgh. On the second last day of the festival. Homecoming is nicer when the entire population of the world isn't in between you and your bus home.
But it's pretty good even when it is.
Au Revoir
This is from the